Testimonials
(Volume 4)
Volume 1 | Volume 2 | Volume 3 | Volume 4
Southland puppy owners please send your news for inclusion here!
---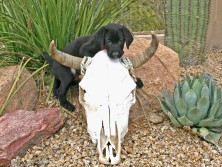 Chance (Dusty/Joe Litter 3-19-08) is a smart little love bug with no fear! There was no period of adjustment for him. This was his home the first minute he arrived. Chance is doing very well on the leash and loves going the local Pets Mart. We have to go to training so he cannot out smart us! Thanks for a great puppy.
Mike and Robin Testani
Scottsdale, AZ

---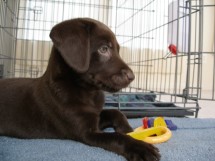 I just wanted to let you know that 'no-mark', aka Southland's Diamond Sadie Mae, is doing very well! In our third week now, she is learning and growing very quickly, and she is demonstrating herself to be 'the best dog ever'! She is very good and I couldn't be happier with my new friend! Thank you, and here is a picture of my little darling.
Rich

---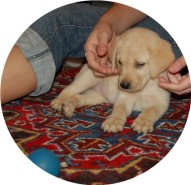 I'm telling the truth -- this is no ordinary puppy! TRULY! We're thinking Bailey is about the smartest little thing ever hatched... rambunctious, beautiful, confident, opinionated and way too smart for us!

Already she's learning her name, the "hurry-up" command (to pee); has houdini-d out of her crate -- once with the top off, once with the top on! she's shimmied thru the one tiny hole in the baby-gate; she's dragged a small rug across the breakfast room to her napping basket; she catches her tail and rolls over in complete loop-d-loops; she's mastering the stairs to the patio; she's only pee'd inside twice (our fault) and she naps at our feet under the table while we read the paper.

We'll stay in touch, as we are so much in your debt. You do a beautiful "job" bringing these pups to life and we're proud to have another one.
Roberta Logwood

---
Volume 1
|
Volume 2
|
Volume 3
|
Volume 4
Copyright © 2002 - 2009 Diana Jagoda
No portion of this site may be copied or reproduced without express, written permission