Testimonials
(Volume 2)
Volume 1 | Volume 2 | Volume 3 | Volume 4
Southland puppy owners please send your news for inclusion here!
---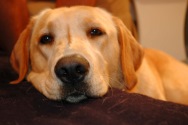 I am (finally) fullfilling one of my New Year's resolutions of 2 years ago...better late than never! My husband and I bought our wonderful dog, Koa from you a few years back. We bought him in August of 2004 and he is a male yellow lab from the Carly/Leroy litter whelped on 6/1/04. We just wanted to let you know how amazing Koa is, he is the most wonderful dog and we love him so much. He fits right in to our growing family and is extraordinarily gentle and sweet with out infant daughter. He has the most amazing disposition and we are enjoying his remarkable presence in our home. We've attached a few pictures of him and just wanted to thank you so much for such a fun, loving, gentle and sweet companion.
Andrea and Matt Williams

---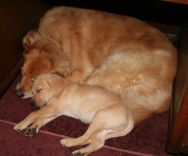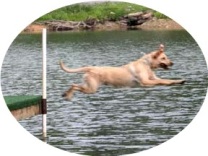 All has gone well since picking Benjamin Tucker "Ben" up (Goldie/Tucker Litter 11-13-06). We'd fogotten after 8 years how much work keeping track of a pup can be but we love him dearly. As you can see from the attached photo, he has not only made his way into our lives but also our 8 year old Golden, Grace.
Many thanks again-
Pat Vega

---
| | |
| --- | --- |
| | |
Just wanted to send you a quick note and let you know what a joy Tucker has been! (Goldie/Tucker Litter 11-13-06) He is so much fun and very smart – I think he was pretty much potty trained in 2 days! We always had dogs that were not so great with kids or other dogs – we are just thrilled about how good he is with our nieces and my in-law's dog. Thank you!
Jill Miller

---
We couldn't be happier with our pup, Gus of Southland. (Dusty/Tucker 01/15/07). He is only 13 weeks old, but he has been very easy to train. He sits, stays, walks on a leash and is housebroken. Best of all he is so loveable. As I mentioned on the phone, we definitely want another one this fall. Barry can't wait to take him bird hunting this fall. He chases the birds at our bird feeder so I think he is going to do well hunting.
Anna & Barry Burghardt
Bumpass, VA

---
Hope this note finds you well. Wanted to provide an update on Shamus (Leroy x Maggie litter 4/25/03). Shamus earned his MHR and SH titles at 3.5 yrs and has three legs toward his GMHR.

Anyway Shamus will be running in the RAW Invitational next month and I will let you know how he does. I've attached an updated picture from one of our hunting trips last season. Thank you again for bringing such a great hunting partner and companion into my family's life...
Mike Reed

---
"Harper" (almost 8 weeks) is the hit of the neighborhood. We have had her less than a week and she knows her name, comes when called from anywhere in the house, sits, does down, is doing great on a leash and (most importantly for now) knows how to ask to go out and goes potty outside almost on command! She's brilliant!
Scott & Debra Bergsma
Raleigh, NC

---
Volume 1
|
Volume 2
|
Volume 3
|
Volume 4
Copyright © 2002 - 2009 Diana Jagoda
No portion of this site may be copied or reproduced without express, written permission