HRCH BOK RISKY BUSINESS, MH
X
DUCKWORTHS ABBY RHOAD
Yellow and Fox Red Yellow Puppies
Due December 4, 2017
$2000.00
---
"Chance"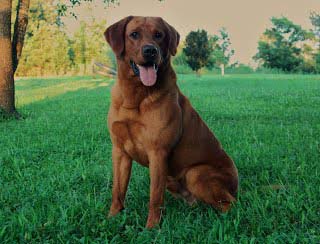 HRCH BOK Risky Business MH, CD, RA, CGC "Chance" is a 6 year old fox red yellow male owned by Will White of Burnt Oak Kennels in Carson, VA. He is a beautiful mixture of show and field lines with a ton of drive. He is a 75 lb. true fox red with a blocky head and athletic build. He is an excellent marker and is still and quiet at the line. He is very honest with a strong desire to please. Chance is a very smart and sensible dog who is great with other dogs and children. He is wide open in the field but is calm and quiet when his wife takes him to the ring to run obedience and rally events, he is truly an all around Lab and has all the traits we look for in a retriever. Chance qualified for the 2015 Master National Event and ran several series with style.

OFA Hips (Good), OFA Elbows (Normal), CERF (Clear), EIC (Clear) and CNM (Clear).
---
"Abby"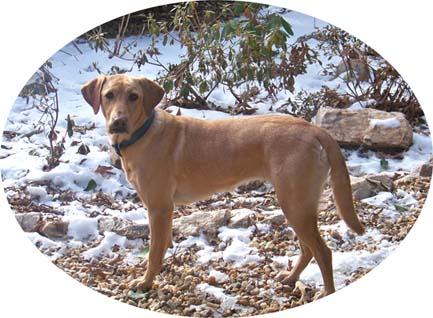 "Abby" is a 65 lb. four year old, yellow female that I recently purchased from Duckworth Retrievers in Midland, Oregon. She is housebroken and has an extremely nice pedigree. Her lines go back to some of the all time greats, such as Jazztime, Marathon Man, Black Golds Kates Rascal and Lean Mac.

She is OFA Hips (Good), OFA Elbows (Normal), CERF (Clear), CNM (Clear) and EIC (Carrier). But with Chance being EIC (Clear) she cannot produce an affected puppy.
---
This is a repeat breeding of Chance and Abby. (view a female from a previous breeding) This breeding should produce dark yellows in addition to some Fox Reds. Fox Red is a term used for a very dark, reddish color, recognized by the AKC as a Yellow Lab. This impressive pedigree should produce the hunting dog of your dreams plus a wonderful member of the family. I expect the pups to be average to large in size, well built and have strong retrieving instincts. The pups will be ready to go the weekend of January 17th. The cost is $2000.00.